PAMELA

 - Appletree Founder

Pamela grew up on a family run dairy farm in Kittery, Maine. She often shares stories of life growing up in a Swedish family of 9 children; 7 brothers and 1 sister. She learned early on how the head, heart and hand together help to form the whole child. These values and early lessons are present each day in her teaching approach. Pamela's happy childhood memories help to supply her with a fountain of energy and joy that bubbles continuously.
As a child care provider and a teacher since 1988, Pamela finds a constant supply of fun in educational things to do at Appletree School and nearby in the community. Her deep farming roots are an integral part of Appletree School. Due to her own farming experience, she is a member and proud supporter of the Cape Farm Alliance that engages young people in agricultural activities and raises awareness about local farming, fishing and food. Additionally, Pamela's ingenuity and resourcefulness are coupled with a sense of play and enthusiasm which she brings to her daily interactions with both children, parents and staff.
Pamela's large extended family includes two grown daughters, Isabel and Elsa, who also enjoy spending time in downeast Maine when they are not in the greater Portland area. Pamela enjoys family time, tending gardens and hard work. She is very proud of Appletree School!
AMY 
Amy has been a teacher at Appletree School since 2003. Growing up in Freeport, she spent many years working with children in the community and decided to focus on teaching in college graduating with an Early Childhood Degree.


Amy loves being part of the multi aged program that Appletree offers. She believes the multi aged classroom helps nurture childrens flexibility, Social emotional development and friendships. She also loves the philosophy of having the outdoor classroom accessible for children to explore in, create in and work in. The outdoor setting and natural environment at Appletree brings so much curiosity and wonder to young children.
CARRIE

  - Appletree Lead Teacher

/Director



Carrie has over 30 years of early childhood experience. Starting her career at The Children's Museum, Carrie continued her work at The University of Southern Maine and University of New England as both Head Teacher and college instructor to student teachers. Carrie has taught in a variety of settings from the Head Start classroom to Parent Cooperatives, most recently as Program Director at the Children's Nursery School in Portland.
Carrie is part of a local group of educators who share a common interest in the Reggio Emilia approach (PARC: Portland Area Reggio Collaboration). Through monthly study group and yearly retreats and conferences, Carrie is both a teacher and a student. Carrie works with children and families in the spirit of the "Reggio" Way, respecting and nurturing their interests. She listens, reflects and uses the environment as a tool for teaching and lengthening a child's natural curiosity.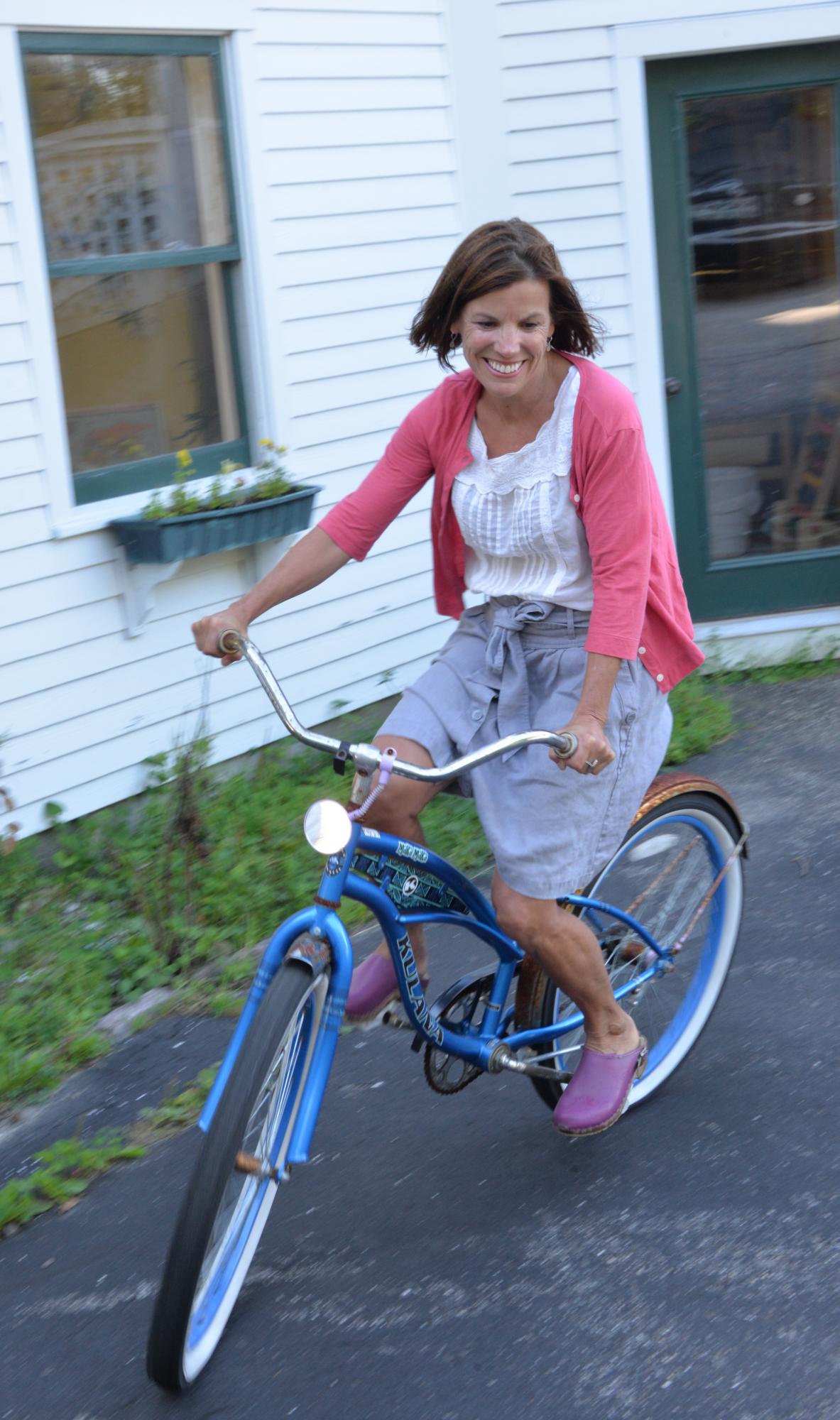 Carrie believes Appletree School is the ideal school for both the teacher and young children. It is here that children will be surrounded by beauty and new experiences. The physical setting naturally peaks the imagination and wonder in Maine seasons and love of the outdoors. The outdoor educational environment is important to Carrie. She plans to foster the love of nature, learning and building healthy character and relationships with young children. Carrie has two grown children, Zoe and Hans.
CAROLINE



Originally from Belgium, Caroline attended the Brussels Academy of Fine Arts for high school where she studied dance. Even though ballet was a true passion, she always had a dream of working in Africa and having a meaningful career in education.
She earned a bachelor's degree in primary education and upon graduating, spent two years in Kigali, Rwanda, working as the head teacher of a 5th grade class. In her spare time, she taught French, her native language, in a local Rwandan school, and kept her passion for dance alive by teaching ballet. She later moved to Boston where she taught French to children from French-speaking families. Caroline moved to California shortly after, where she decided to take a break from the world of education to raise her two children. In her free time, when she's not playing with her daughter and her son, she loves hiking, working out, reading books and writing poetry.
Meet Our Teachers and Staff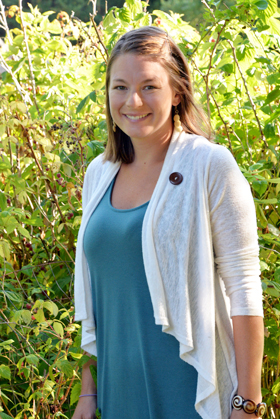 Amy brings spanish into the curriculum as well as mixing literacy with cooking and exploring recipes with our "Cooking with a Book" days. She believes immersing children in rich learning experiences is important in early childhood. Amy lives in Portland with her husband Geoff and their 2 children Caleb and Chloe, who attended Appletree School through their preschool years.
Meg has developed a unique and vast experience educating youth while exploring and utilizing the outdoors as her teaching medium.
Meg spent her summers at a family cottage on Great Diamond Island living
with the ocean as her front yard and backyard. It is on the island where she fell in love
with her adopted sibling, the Sea, appreciating the opportunity to share with family and friends a natural wonder in Casco Bay.
Meg enjoys partnering with the Appletree staff to design and develop play-
based experiential learning while sharing her excitement for the outdoors with the
"adventurers" at Appletree.
Our child-centered program is built by our experienced teachers to fit the ever-changing developmental, emotional, and academic needs of our students. We have the gift of our outdoor classrooms, as well as bright and engaging indoor learning spaces. Our independent status invites creativity and joy into our curriculum, allowing us to focus on the arts, science, literacy, math and the whole child through a play and nature based curriculum.
The teachers at Appletree School in Cape Elizabeth, Maine favor an experiential, hands-on approach to teaching preschool, believing that this is the best way to meet the needs of body, mind and spirit.
Meg is a graduate of Plymouth State University with a Bachelor of Science degree in Adventure Education. Through her Outdoor Education program at Plymouth, Meg further developed her love for the outdoors while increasing her desire
to share her knowledge and enthusiasm with children of all ages.
Meg honed her experiential teaching skills while studying a semester abroad in Australia, as a Sea Kayak Guide at Rippleffect on Cow Island, Casco Bay, and as an Assistant Teacher at Plymouth Elementary School.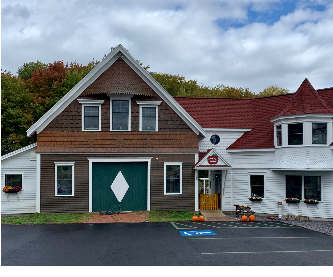 Her teaching experience also stems from a variety of classes taught in Hartland, WI and Decatur, IL; as well as a long history of childcare and holistic inspiration drawn from a Waldorf school upbringing (1st through 12th grade!). She holds a BFA from Millikin University, though she considers herself a lifelong learner lucky to expand her heart and mind as she works with young children and fellow dedicated teaching staff.
Genevieve is wholeheartedly thrilled to be a part of the lovely Appletree community. Nature, education, and the arts have always walked hand in hand throughout her life as some of her most gracious guides toward fulfillment.
She moved to Portland from Falmouth, Massachusetts where she was involved in theatre, farming, and teaching drama classes and summer camps at the Cotuit Center for the Arts.
Jacob feels exited and grateful to be a part of Appletree School. Jacob has an ability to connect with and respond to children with his gentle and respectful nature. Since he finds his greatest inspiration and happiness making music, being outdoors and spending time with community, he cannot imagine a better place to be than to be working within the natural setting of Appletree.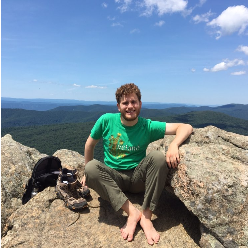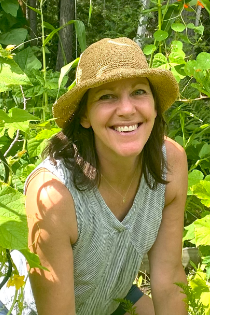 Sara is often your first point of contact, and she welcomes your inquiries. As a parent to three adult Appletree alumni and a former classoom assistant, Sara holds a deep connection to the school. Her children still credit much of their love of nature to the years spent in the outdoor spaces at Appletree.
Sara believes in collaboration, openness and thoughtful observation as the base to building a solid community of teachers, young learners and family members. She has a love of cooking for others, photography and growing a wild and adventurous garden during our short but spectacular Maine summers.
Kristen is elated to have joined Appletree in the fall of 2021 and get to know each child essential to curious communities of Explorers, Builders, and Rangers. A walk in the woods at Appletree follows a life of community volunteering, teamwork and love of the natural world in New York's Hudson Valley. Kristen has a degree from Fordham University in history with a minor in journalism that led her to a newspaper writing job in Maine before joining Appletree.
She's also worked as an elementary classroom aide, camp counselor and babysitter for many years. College courses in French have fueled her interest in exploring diverse languages and cultures. Kristen enjoys baking, a scenic hike or run and a thought-provoking movie in her free time.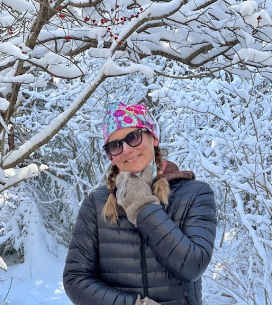 Melissa is very grateful to be a part of the Appletree community! Originally from central Maryland, she grew up with an everlasting love for nature and the arts. Melissa's first job as a preschool teacher was at the same preschool she attended as a child, which was also an outdoor educational environment. She is excited to be returning to a similar setting among the beautiful nature and wildlife of Maine.


Melissa believes young children thrive the most when they're exploring the world around them, and are able to express themselves authentically through different styles of art. She looks forward to cultivating the curiosity and creativity of the kids at Appletree!